About the AEM Center
The National Center on Accessible Educational Materials for Learning at CAST provides technical assistance, coaching, and resources to increase the availability and use of accessible educational materials and technologies for learners with disabilities across the lifespan.
Why accessible materials & technologies?
Accessible versions of educational materials may mean the difference between learning barriers and learning opportunities.
NIMAS & NIMAC
NIMAS is a technical standard used by publishers to prepare "electronic files" that are used to convert instructional materials into accessible formats. NIMAC is a national center that stores NIMAS source files from publishers.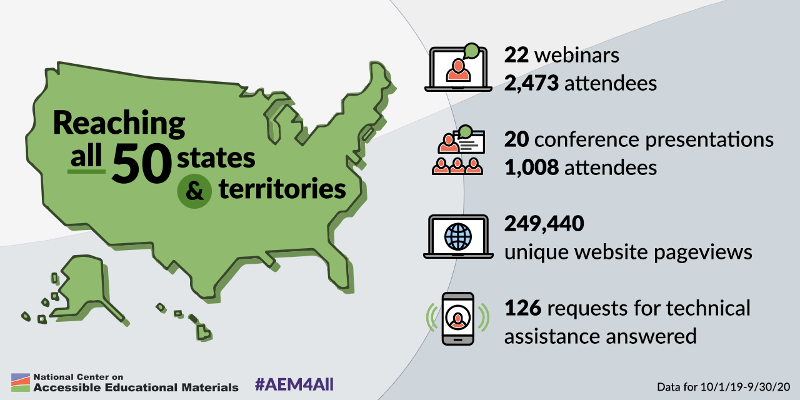 Our impact, by the numbers
We're reaching all 50 states + with our technical assistance, providing intensive technical support to a cohort of seven states, and constantly developing new resources for our visitors and followers.
Upcoming AEM Center Events
Learn more about AEM Center events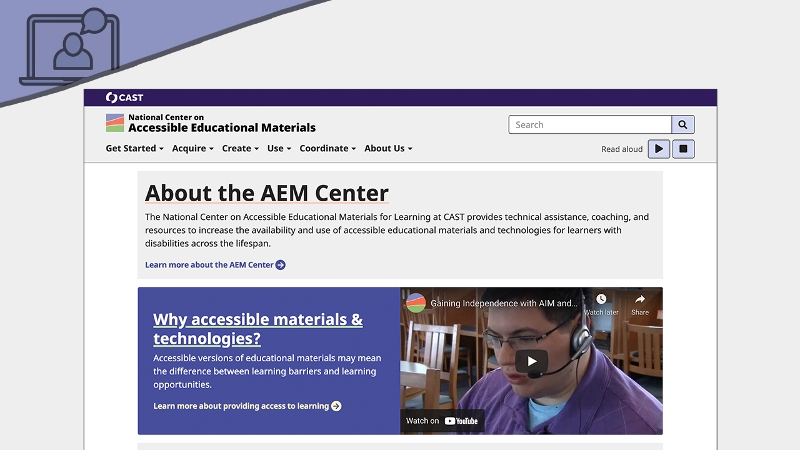 webinar
Let the AEM Center's technical assistance team introduce you to our new website.
2:00PM – 3:00PM ET on Tuesday, May 18, 2021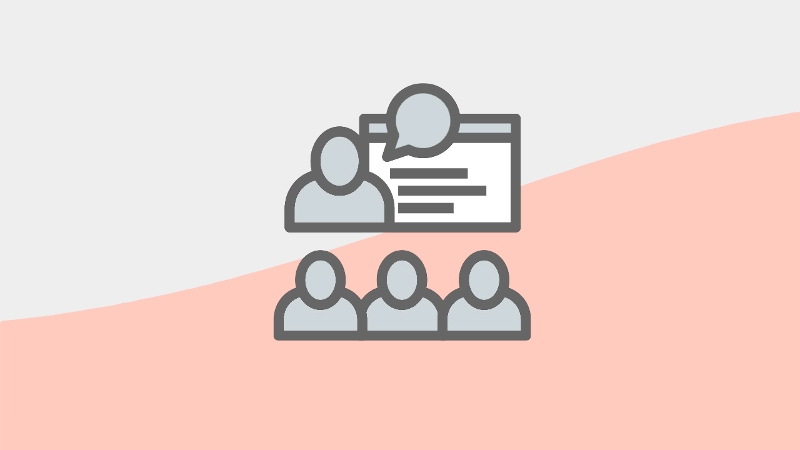 presentation
Learn how to create more inclusive STEM-related content by following accessibility best practices.
12:30PM – 1:15PM PT on Sunday, June 27, 2021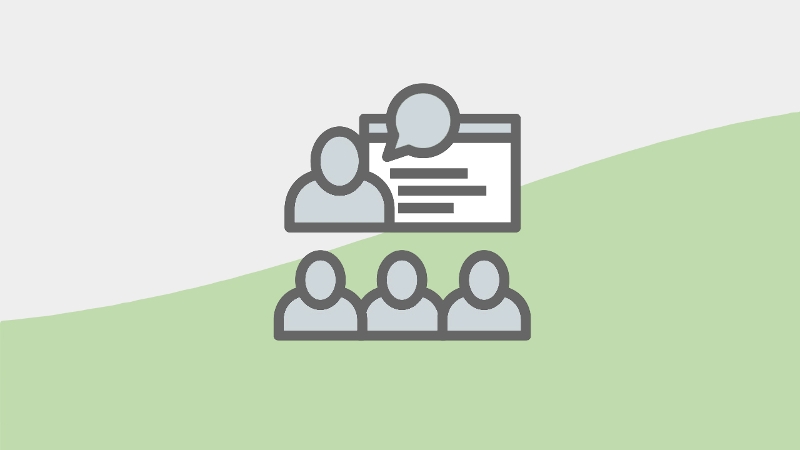 presentation
This session will focus on practical steps educators can take to ensure the materials they design follow accessibility best practices by implementing the POUR principles of accessibility.
12:50PM – 1:50PM ET on Thursday, July 29, 2021
Latest AEM Center Resources
Learn more about AEM Center resources
article
Situated at the intersection of where the OER field meets accessibility issues, this guide details a variety of resources useful for evaluating and selecting appropriate and accessible OERs.
National AEM Center at CAST
2021
guide
This guide is intended to help publishers and conversion houses to respond to state and local education agency requirements to prepare NIMAS filesets when textbooks are adopted or purchased and contains practical information regarding the creation of a NIMAS fileset.
National AEM Center at CAST
2021
policy brief
The purpose of this brief is to help families and educators understand the right of students with disabilities who need accessible educational materials to receive these materials in a timely manner.
National AEM Center at CAST
2021