The Accessible Learning Experience Podcast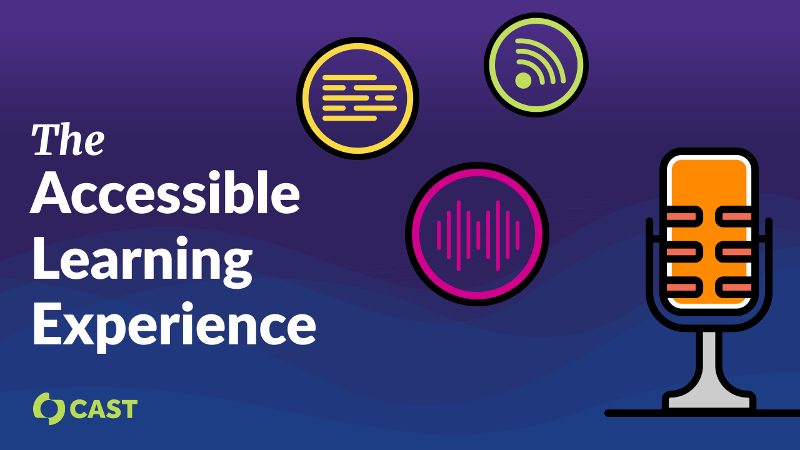 Turn learning barriers into learning opportunities by exploring the world of accessibility and Universal Design for Learning.
Each episode of The Accessible Learning Experience features interviews with national, state, and local leaders whose work focuses on turning learning barriers into learning opportunities. These leaders share their top tips and strategies for implementing accessibility best practices in a variety of settings. They also shine a spotlight on the partnerships and collaboration that are needed to create robust systems for the timely provision and use of accessible educational materials and technologies in support of inclusive teaching and learning practices. Episodes are released monthly and you can listen on the web through Anchor or through the podcast app of your choice.
Visit the podcast home on Anchor
Episodes
September 2022
Are using assistive technologies and accessible educational materials cheating? Find out in our season two opener.
National AEM Center at CAST
2022
October 2022
Tune in to hear Dr. Eric Moore's insights on how we can all work to create more inclusive workplaces.
National AEM Center at CAST
2022
November 2022
Our guest Yokasta Urena shares her unique perspective on family engagement based on her lived experience as both the parent of a student with a disability and an education professional supporting families in a variety of roles.
National AEM Center at CAST
2022
Season One
---
The contents of this podcast were developed under a cooperative agreement with the US Department of Education, #H327Z190004. However, those contents do not necessarily represent the policy of the US Department of Education and you should not assume endorsement by the Federal Government. Project Officer: Rebecca Sheffield, Ph.D.