About the AEM Center
The National Center on Accessible Educational Materials for Learning at CAST provides technical assistance, coaching, and resources to increase the availability and use of accessible educational materials and technologies for learners with disabilities across the lifespan.
Why accessible materials & technologies?
Accessible versions of educational materials may mean the difference between learning barriers and learning opportunities.
NIMAS & NIMAC
NIMAS is a technical standard used by publishers to prepare "electronic files" that are used to convert instructional materials into accessible formats. NIMAC is a national center that stores NIMAS source files from publishers.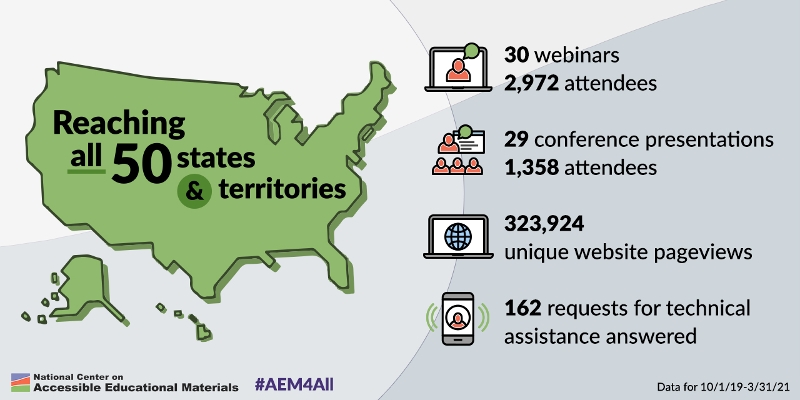 Our impact, by the numbers
We're reaching all 50 states + with our technical assistance, providing intensive technical support to a cohort of seven states, and constantly developing new resources for our visitors and followers.
Upcoming AEM Center Events
Learn more about AEM Center events
Latest AEM Center Resources
Learn more about AEM Center resources
Report
Learn more about the AEM Center's technical assistance throughout the United States from October 2019 – March 2021.
National AEM Center at CAST
2021
Guide
Use the AEM Navigator to make informed, accurate decisions about the acquisition of accessible formats for students who need them.
National AEM Center at CAST
2021
Guide
Learn detailed yet easily implemented techniques for evaluating the accessibility of open education resources in a variety of formats.
National AEM Center at CAST
2021