About the AEM Center
The National Center on Accessible Educational Materials for Learning at CAST provides technical assistance, coaching, and resources to increase the availability and use of accessible educational materials and technologies for learners with disabilities across the lifespan.
Why accessible materials & technologies?
Accessible versions of educational materials may mean the difference between learning barriers and learning opportunities.
NIMAS & NIMAC
NIMAS is a technical standard used by publishers to prepare "electronic files" that are used to convert instructional materials into accessible formats. NIMAC is a national center that stores NIMAS source files from publishers.
Featured AEM Center Resources
Learn more about AEM Center resources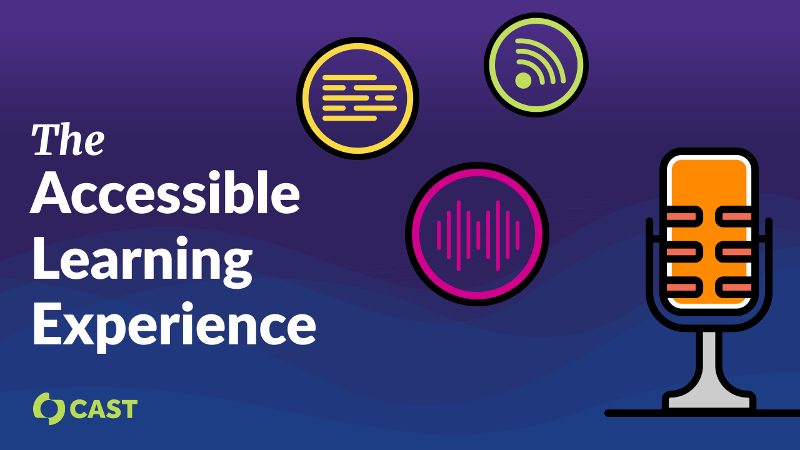 The Accessible Learning Experience
Turn learning barriers into learning opportunities by exploring the world of accessibility and Universal Design for Learning in this monthly podcast.
Guide
This brief presents an overview of the "fair use" doctrine under copyright law in relation to the provision of accessible texts to persons with disabilities.
J. Karger
2020
Article
Situated at the intersection of where the OER field meets accessibility issues, this guide details a variety of resources useful for evaluating and selecting appropriate and accessible OERs.
A. Hashey, et al.
2021
Guide
Use the AEM Navigator to make informed, accurate decisions about the acquisition of accessible formats for students who need them.
AEM Center at CAST
2021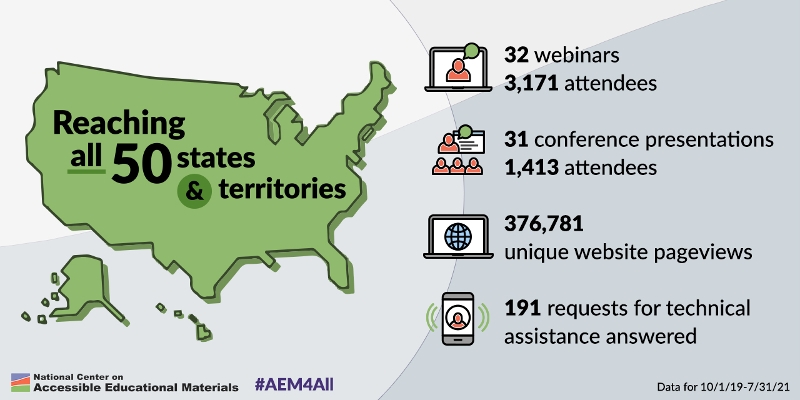 Our Impact by the Numbers
Learn more about how our work impacts states and individuals through our universal, targeted, and intensive technical assistance.
Upcoming AEM Center Events
Learn more about AEM Center events
Presentation
This session explores four myths about literacy learning: 1) Some children with disabilities do not need to learn to read and write; 2) Using speech to communicate is a prerequisite to reading and writing; 3) Children cannot have an intellectual disability and a reading disability; and 4) Using assistive technology (AT) to read and write is cheating.
1:15PM – 2:05PM ET on Saturday, December 2, 2023
Presentation
New to the provision of accessible educational materials (AEM), or just need to refresh your understanding to incorporate the latest changes to AEM-related statutes? Explore new and updated resources from the AEM Center that will make you an accessibility hero for all students, including those who have disabilities.
1:00PM – 2:00PM ET on Thursday, January 25, 2024
Presentation
Accommodating individuals with disabilities using assistive technologies can be beneficial in a wide variety of job settings. In this session, speakers in the Transition and Workplace Accessibility Strand are invited to introduce themselves and provide a preview of their presentation.
4:30PM – 5:30PM ET on Thursday, January 25, 2024